Community vans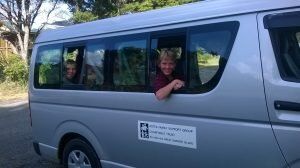 The Support Group owns two 8-seater vans (excl driver), one is based in Tryphena and the other at Okiwi, which are available for use on a discretionary basis by other community groups when needed, but not for private use. You have to register with the Support Group as a driver with a valid drivers license to be insured.
The Northern van was purchased in early 2014 with funding awarded by the Great Barrier Local Board. Primarily for use by the youth of the island, the van is also used to transport seniors to Arts and Crafts on Mondays most weeks and the northern van to take patients to the Nurses Cottage in Port Fitzroy on doctors days. Both vans are also regularly used to bring guests to the Over 60s events from North and South.
Every Monday, at least during school term time, the van leaves Mulberry Grove School at 9:30am and returns from Claris at 1:30. Please call the office on 465 to arrange a pick up.
A small koha contribution to running costs is appreciated, if you can afford it: $5 between locations in the South and the North respectively, and $10 to go from North and South. The return is free. Children go free. We are always looking for volunteer drivers.
Contact us to find out more and book the van.
Marquee hire
The Support Group has one 6x9m marquee as well as several gazebos available for hire to community groups and others organising events.
Library
This extensive Resource Library is housed in the waiting room of the Health Centre at Claris. It was first started to provide free Health & Wellbeing information to all residents. It is administered by the Community Worker.
Other equipment
Apart from the marquees, there are other items of equipment owned by the Trust which are available to community groups for use with public events, in return for a small koha:
Video projector
Large LCD TV/screen
DVD player
BBQ
Misc equipment for indoors and outdoors events, eg sports equipment.
(Please note that the borrower must accept full responsibility to return the equipment in good condition or be liable for the full replacement cost.)
Information about our community
If you want to know more about our community, then start here ..
QuickStats About Great Barrier Island – Statistics New Zealand
Demographic Report Card – Great Barrier Local Board
[PDF]Great Barrier Local Board Statistical Profile
[PDF]Great Barrier Island – Auckland District Health Board
Great Barrier Island News Archive – NZ Herald
Weather statistics for Great Barrier Island
Great Barrier Island – Wikipedia, the free encyclopedia
Don Armitage – Aotea – Great Barrier Island
The Community Law Manual is a trail-blazing resource that helps Kiwis (and their advocates) help themselves. It sets out legal information in an accessible way for everyday users. The Community Law Manual deals with many areas of community and personal life and provides answers and solutions to common legal questions.
The Community Law Manual is released in a new edition every July. This means we both print a new edition of the book, and also publish the information online, in July every year. It's important to know however that the law can change quickly, and we can't ensure the information here is 100% up-to-date all of the time.
It is also important to note that this manual does not give readers the tools to provide legal advice. Interpreting the law and advising someone about what action they should take are jobs for a qualified lawyer. For legal advice on a specific issue, it is important to consult with a lawyer. The first place to ask for help is your local Community Law Centre.
You can consult the 800+ page manual online at the Community Law website here.
Useful Links
Other sites on Great Barrier Island:
Okiwi Primary School, North Barrier
Mulberry Grove School, Tryphena
Great Barrier Island Community Health Trust
(And visit us on Facebook.)